Tree Trimming Costs & Prices
Many people have trees growing in their yard and are unaware that they need regular grooming, much like any other plant. If you have recently purchased and planted a tree, know that the financial investment doesn't stop after your initial purchase; tree upkeep over the life of a tree can cost a pretty penny.
Mistreating or neglecting your tree will also cost you in the long run, potentially even more. The following guide will give you a ballpark range on tree trimming costs & prices, tree removal costs, and more helpful tips to make sure your trees are getting the proper care they need.
1. When to Trim Your Trees
2. Tree Trimming Costs & Prices
3.The Cost to Remove a Tree
4. Additional Cost Determining Factors
5. Tree Trimming Services Near You
When Should I Trim My Trees?
This is a great question for anyone who is just starting out and is unsure how to determine when a tree needs a little (or a lot of) TLC. It's important to note that there is a difference between pruning and trimming your trees and that the cost for either can also be different.
The best way to tell if your tree needs to be pruned or trimmed is to look for several signs: branches interfering in unwanted places, tree diseases, and hanging limbs. If there has recently been a major weather change in your area, or a huge storm or flood, you should inspect your trees for any of the three issues mentioned above.
A rule of thumb for most trees is to trim or prune them in the winter when the tree is dormant, and pruning should be done every 3 to 5 years. Trimming can be done as you see fit and can vary depending on the type of tree you are dealing with.
Tree Trimming Costs & Prices
Before determining an accurate cost, you must first measure your tree. Like mowing a lawn or building a deck, it's the size of the tree that will determine the base cost of your trimming service. The larger the tree, the more expensive the service will be as there will be more area to trim.
 It should be dually noted that there are other factors that can be added to the cost, such as the branch pickup after the tree trimming. You'll want to make sure that this price is given to you initially, because you don't want to be stuck cleaning a yard full of pesky branches and twigs.
 According to many different sources, the average pricing in the United States is as follows: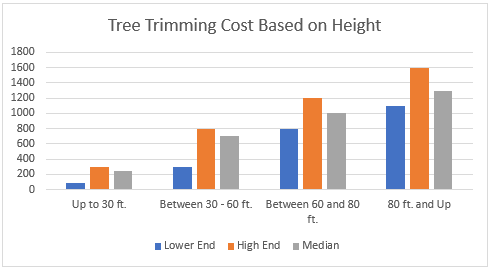 * The following data was collected from homeguide.com and thumbtack.com. 
Prices may be intimidating, but it's always better to go with a professional than to risk damaging the tree further by trimming or pruning improperly. Like in most instances, cheaper is not always better when it comes to the livelihood of your greenery.


The Average Cost to Remove a Tree
Maybe you have a tree that is irreparable or has been dead for many years, left to rot in your yard. These rotten trees can be an eyesore to your property and can also bring down the value of your home if you are planning to sell at some point, so it's important to make sure they are removed properly.
| | |
| --- | --- |
| Helpful Tip: | It is advised that you check with your local government before removing a tree, as permits are required to perform this service. Fines can cost between $20,000 to $60,000 for reckless removal. |
There are several methods used to remove a tree and these can vary by professional. However, the main steps in tree removal include: removing individual limbs, cutting the tree into smaller pieces for easier removal, and of course chopping down the trunk of the tree. Removing the debris from your yard may also be an additional cost if it was not discussed during the initial estimate.
The following tree removal prices were gathered from several sources and are considered the average prices in the United States for tree removal:   
Height

Low End

High End

Up to 30 ft.

$200

$500

30 ft. Tall to 80 ft.

$500

$1,000

80 ft. and Higher

At least 1,500 or More
*The following data was collected from treeremoval.com and homeguide.com.
Please do not attempt to remove a tree by yourself as the process can be extremely dangerous to you or your property!
Additional Cost Determining Factors
Height – as mentioned previously, the height of the tree is the biggest determining factor to pinpoint the price of multiple tree services.
Location – if the tree is near a hazardous area like a power line, the cost to perform any service by a professional may go up. Hazardous services can add an additional $100 to $500 depending on the company.
Previous Upkeep – if you have never pruned your trees, or taken care of them in any sense, you can anticipate your tree service cost to go up as the professional will have more work to do.
Travel Expenses – if you find a company you're dead-set on hiring that is outside of your service area, you may have to pay an extra fee to have them come to your property that covers gas, time, and other factors.
Number of Trees – sometimes if you need services performed on multiple trees, a professional will give you a discounted rate depending on the number of trees. It's always best to discuss this during the initial consultation to eliminate any confusion.
Urgency – if a tornado or dangerous storm happens to blow tree limbs, or entire trees, into unwanted places that need immediate attention, this may cost more. You can expect to tack on at least an extra $200/hr for emergency services.
Tree Trimming & Other Services in San Antonio
If you are located in San Antonio, Texas or a surrounding area, Buchanan Tree Services is a 5-star, professional company that offers a free quote to customers. They specialize in tree trimming, stump grinding, and other specialized services that guarantee a job done right.
If you are located outside of their service area, Thumbtack is a great website to look for tree services in your area using your zip code.
Contact Us
Trust a highly rated Tree Service Company with over a decade of experience. 
Request Free Quote